Platform
Design-driven technology for wine commerce.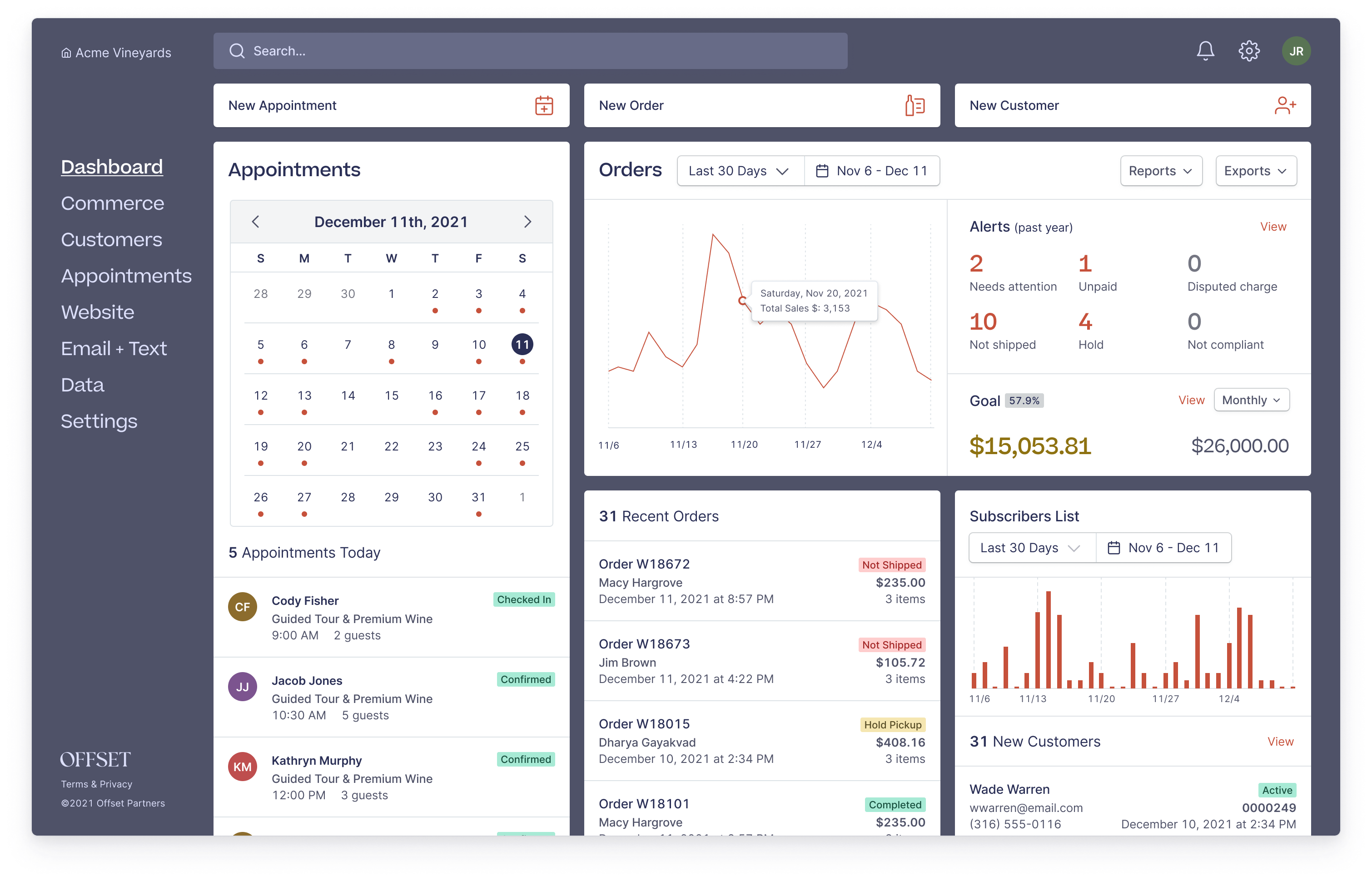 Commerce Platform Overview
Elevate every step of the sales experience
Just because there's inherent complexity in selling wine doesn't mean the tech to do so needs to be an ugly maze. Thoughtfully developed to elegantly and efficiently handle all aspects of DTC sales, Offset Commerce has been informed by over a decade of working with incredible wineries and merchants of all types and sizes. Just like our approach to brand, nuance matters in commerce too. Offset Commerce's highlights include branded paths to purchase, full support for multiple sales models including sophisticated allocation features and elevated club tools, as well as robust email marketing integration. Expanding beyond our core product, we also offer a nimble mobile-POS, a powerful content management system, and opportunities for integrations and enterprise customization.
Being powerful and feature-rich is important, but for a product to truly be a solution it should be easy – even enjoyable – to use. We built the Offset Commerce platform with our design minds' big picture focus on the complete user experience (UX) for both consumers and admin users. Much like hospitality (its in-person counterpart), UX isn't just icing, it's a key factor determining outcomes and performance.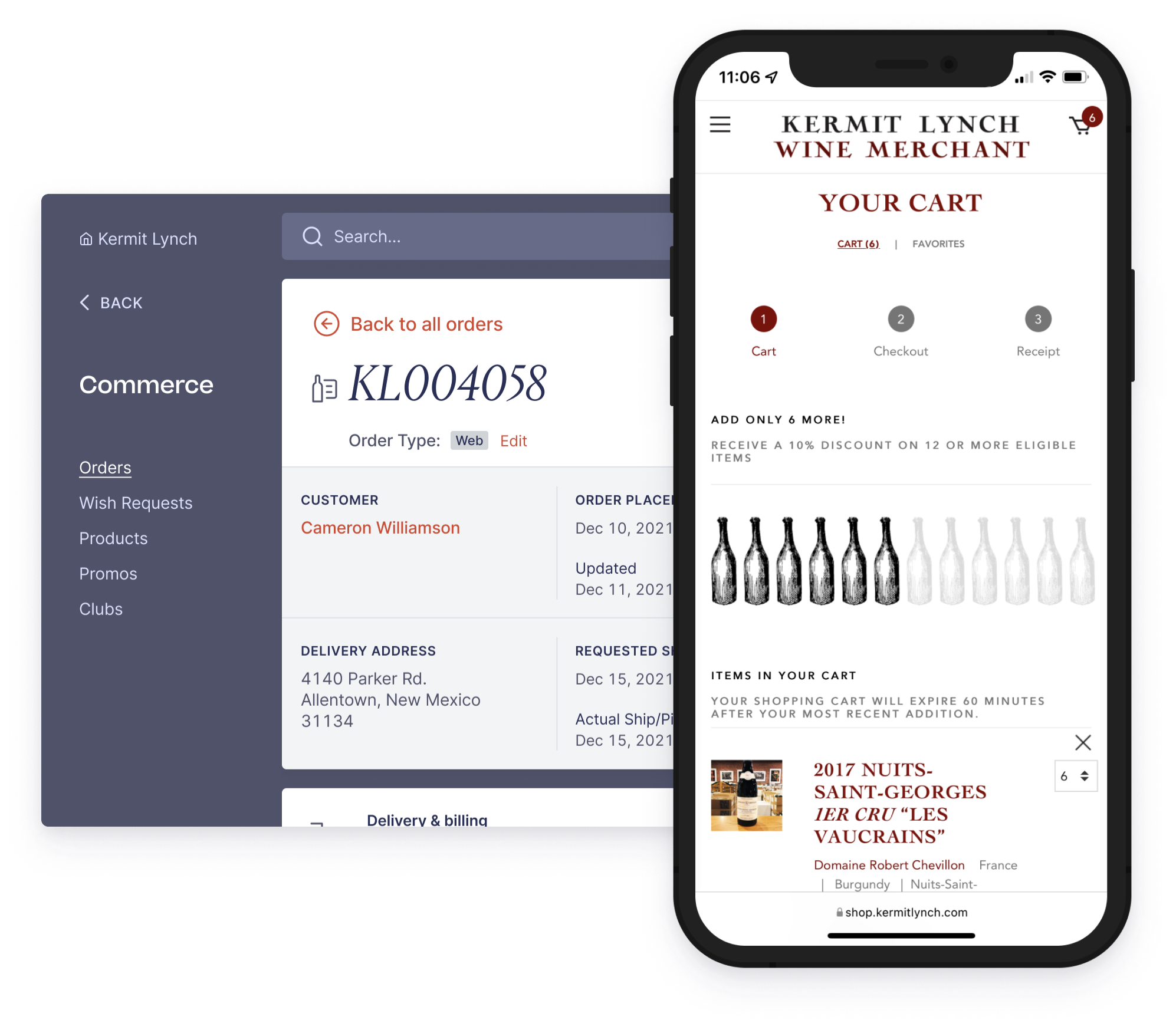 "Offset's blend of form and function has streamlined our process without sacrificing quality.
Their user interface is friendly and efficient for both our administrative and sales needs. Internally, we can quickly train staff and rapidly increase proficiency. In path to purchase, customers can experience our brand at their pace, but finalizing their order is just a click away."
Philip Gift, Estate Director
Aubert
Mobile POS and Hospitality Management
iOS app for iPhone and iPad to process modern payments anywhere
Designed as a companion app to the complete Offset Admin, the Offset Commerce App allows you to quickly and efficiently process in-person orders, keep track of customer information, reference product information, and manage your tasting appointments. Relationship-forward, all pertinent customer details are easily accessible – fostering tailored service, improving real-time decisions, and ensuring compliance for in-person and shipped orders. It's the register reimagined for high-end hospitality.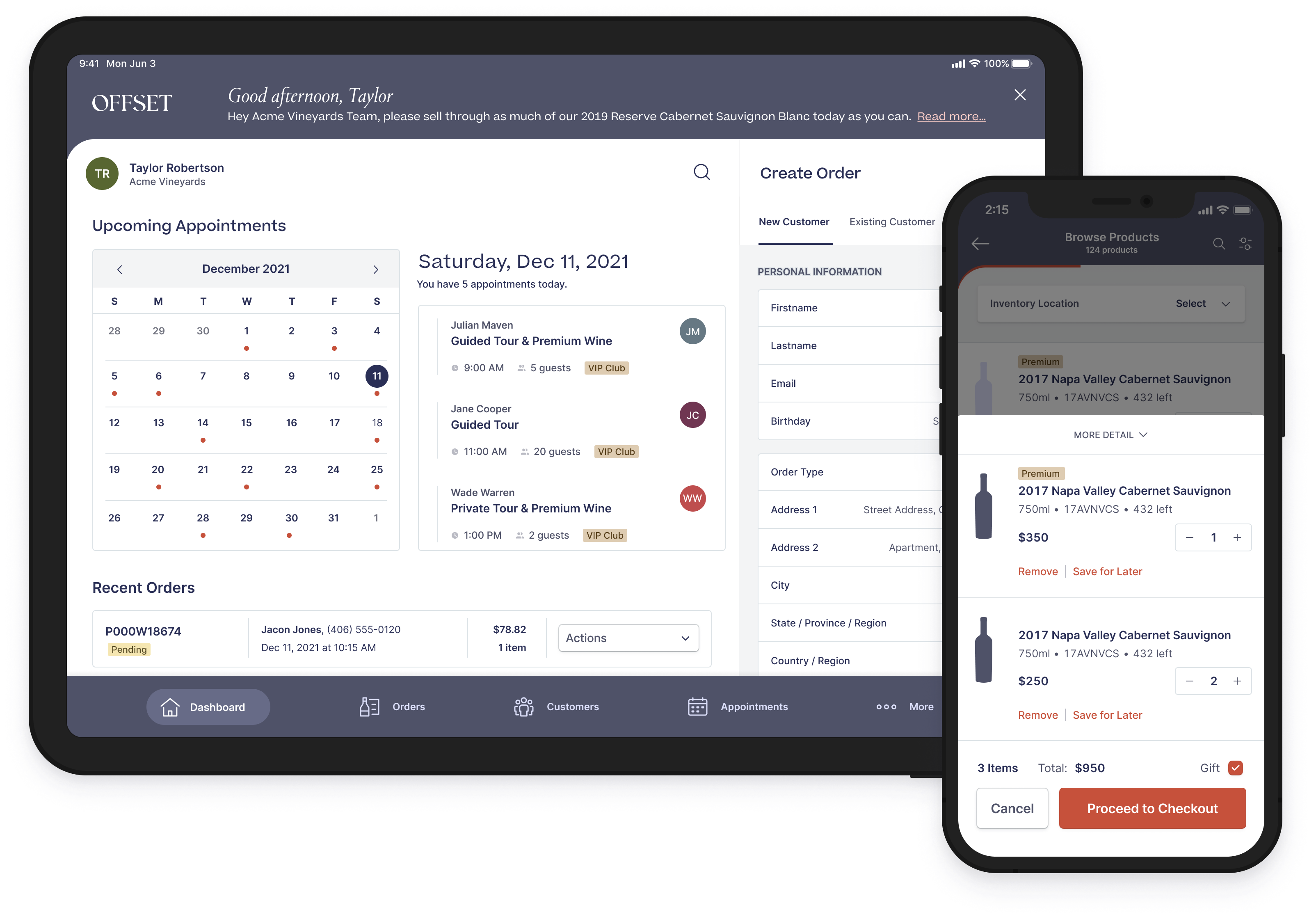 Create, edit, and publish changes to your website in real-time
We are big believers in the power of content – it's what sets you apart and keeps your website feeling alive. Because supporting your story is just as important as your check-out flow, our new CMS allows for easy content creating, editing, and management on your Modular or Custom Website. In addition to core CMS tooling like text formatting, photo cropping and resizing, we feature wine category specific additions, including robust support for wine details and trade files.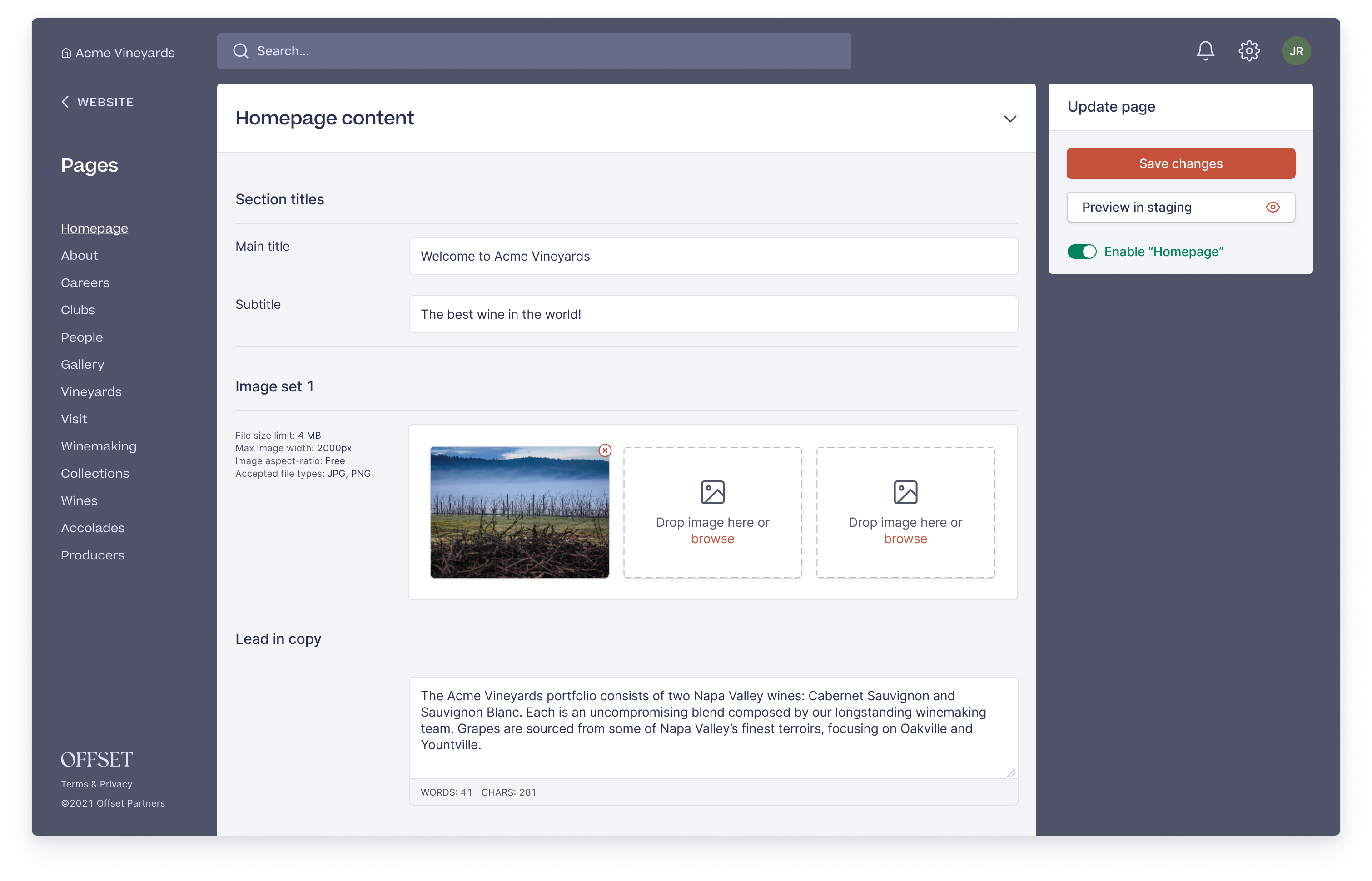 Open API and Advanced Integrations
Intelligent expansion options for precise growth
We've long held that your data is your data. Which means that in addition to providing an excellent fully-featured commerce platform, we want to make sure your data is clear, clean, and able to be ingested by outside companion systems you may use. From accounting and analytics to shipping and marketing, our Open API allows us to play very well with others. To ensure you don't build out more than necessary, we're always available to advise on the best routes for expansion, add-ons, and integrations.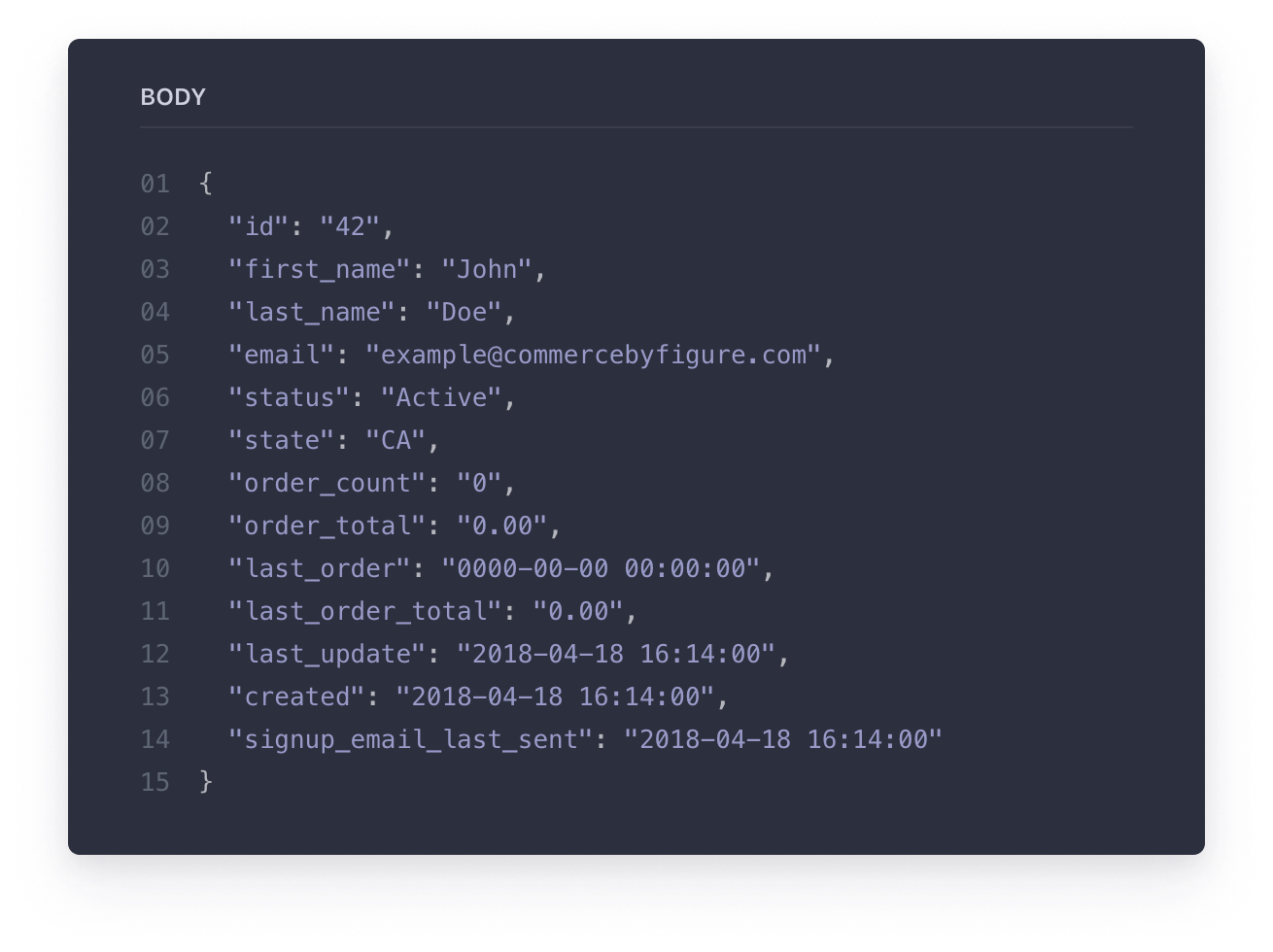 Custom Features and Development
A partnership for innovation
Having design and tech under one roof is our superpower for producing thoughtful, cohesive custom development. Whether to better mirror in-person sales strategies, or to break new ground, some of our existing features in fact began as custom features. Much like our bespoke brand services, we always approach custom features with care for your brand, your business, and your budget. Our collaborative approach is core to our custom development process from ideation through launch and continued iteration.
Selected Platform Clients
1467 Cellars
Accendo Cellars
ACME Fine Wines
Ad Vivum
AllBaer
Alma Fria
Andremily
Arnot-Roberts
Aubert Wines
Arkenstone
Aspire
Beaune Imports
Becklyn Cellars
Bedrock Wine Co.
Beta Wines
Black Kite
BRAND Napa Valley
Brilliant Mistake Wines
Calder Wine Company
Castiel Estate
Ceritas
CHEV
Christopher Tynan Wines
CIRQ
Covert Estate
Cru de Clos
Crunchy Red Fruit
Cruse Wine Co
Dalecio
Dehlinger
Devil Proof Vineyards
Di Costanzo
Dogfarm
Donald Patz Wine Group
Duhig
DuMOL
Enfield Wine Co.
Ernest Vineyards
Extradimensional Wine Co Yeah!
Fairchild Wines
Ferren
Fingers Crossed
Firetree
First Bottle Wines
Floodland Brewing
Forlorn Hope Wines
Fortunate Son
FUTO Estate
Garden Creek Vineyards
Grace Family Vineyards
Haliotide
he-li-an-thus
Hill of Tara
Hobel Wines
Hundred Acre
K. Laz Wine Collection
Kanzler Estate
Kasher
Keep Wines
Kermit Lynch Wine Merchant
Kongsgaard
Kosta Browne Winery
Kutch
La Pelle
Larkmead
Last Bottle Wines
Les Vins Julien
Littorai
Macdonald Vineyards
Marciano
Maxem Wine
Mayacamas Vineyards
Memento Mori
Mila Family Vineyards
Myriad Cellars
M. Zobeck
Occidental Wines
Patria Wines
Peay Vineyards
Quilceda Creek
Racines
RAEN Winery
RdV Vineyards
Revik Wine Co.
Rhys Vineyard
Rivers-Marie
Roar Wines
Roy Piper Wines
Saison Cellar
Sandlands
Sandlands
Saxon Brown
Saxum
Scholium Project
Seaver
Seven Stones Winery
Sorì della Sorba
SR Tonella
Summer Dreams
Switchback Ridge
T. Berkeley
Terre et Sang
Tidings
The Vineyardist
Ultramarine
Under The Wire
Vice Versa Wines
Volterre
Walson Holland
Winery Sixteen 600
X Novo
Zeitgeist Cellars