Kistler Vineyards
The importance of story in wine websites
The deliverable for many of our projects is a "website," but what we're actually engaged for usually goes much deeper and can transcend the transactional.
A few years before our collaboration, Kistler's eponymous founder, Steve Kistler, passed the winery's reins to Jason Kessner. As the winemaker and president of Kistler, Jason engaged us for a long-term storytelling project that documented, distilled, and reassured customers of Kistler's long-term commitment to its founding mission: that compelling wines of site could be made in California. The resulting website fluidly tells Kistler's story through a long-scroll home page composed of documentary imagery, studio photography, and rich media – culminating in an experience that illuminates the focus, care, and patience that has made Kistler's wines world-class for the last forty-odd years, and will for decades to come.
Letting a photo style (and narrative) develop naturally
We love collaborating with photographers. It's a usually balancing act between creating space for them to do their best work while providing enough direction and feedback to ensure the work fits the brand and storytelling needs of the client. In most cases clear process and roles is important.
Occasionally you work with a photographer where there is no balancing act required and roles recede. Jimmy Hayes is one of those photographers. As a former beverage director and winery GM, he understands the industry inside and out. Working together on Kistler, the lines between our disciplines disintegrated – enabling a natural narrative for Kistler to develop, both on the website, and in the archive of photography, that Kistler will use for years to come.
Using rich media to engage more of the senses
Wine is sensory. And although smell and taste can't be reproduced digitally, sound as a medium is a largely untapped tool for wine online.
To capture the energy and focus of the crew behind Kistler's harvest, we set photographer Jimmy Hayes up with a field recorder to sonically document the nights' work while he photographed. The resulting audio-backed slideshow allows the viewer to experience a commonly shown portion of the winemaking process with fresh eyes (and ears).
Beyond the website: an iPad app for education in the tasting room and the market
Kistler's website purposefully prioritizes story over education. Not because wine education isn't valued by Kistler, but because they believe education is more effective once someone has decided to engage deeper with their brand. For devotees of Kistler who visit their tasting room (and for representatives in the market), an interactive iPad app allows for detailed exploration of Kistler's vineyards and wines.
And because, one of the byproducts of the website process was defining how Kistler's brand lives digitally, creating the app interface (usually an expensive and time-consuming task) was relatively affordable and timely.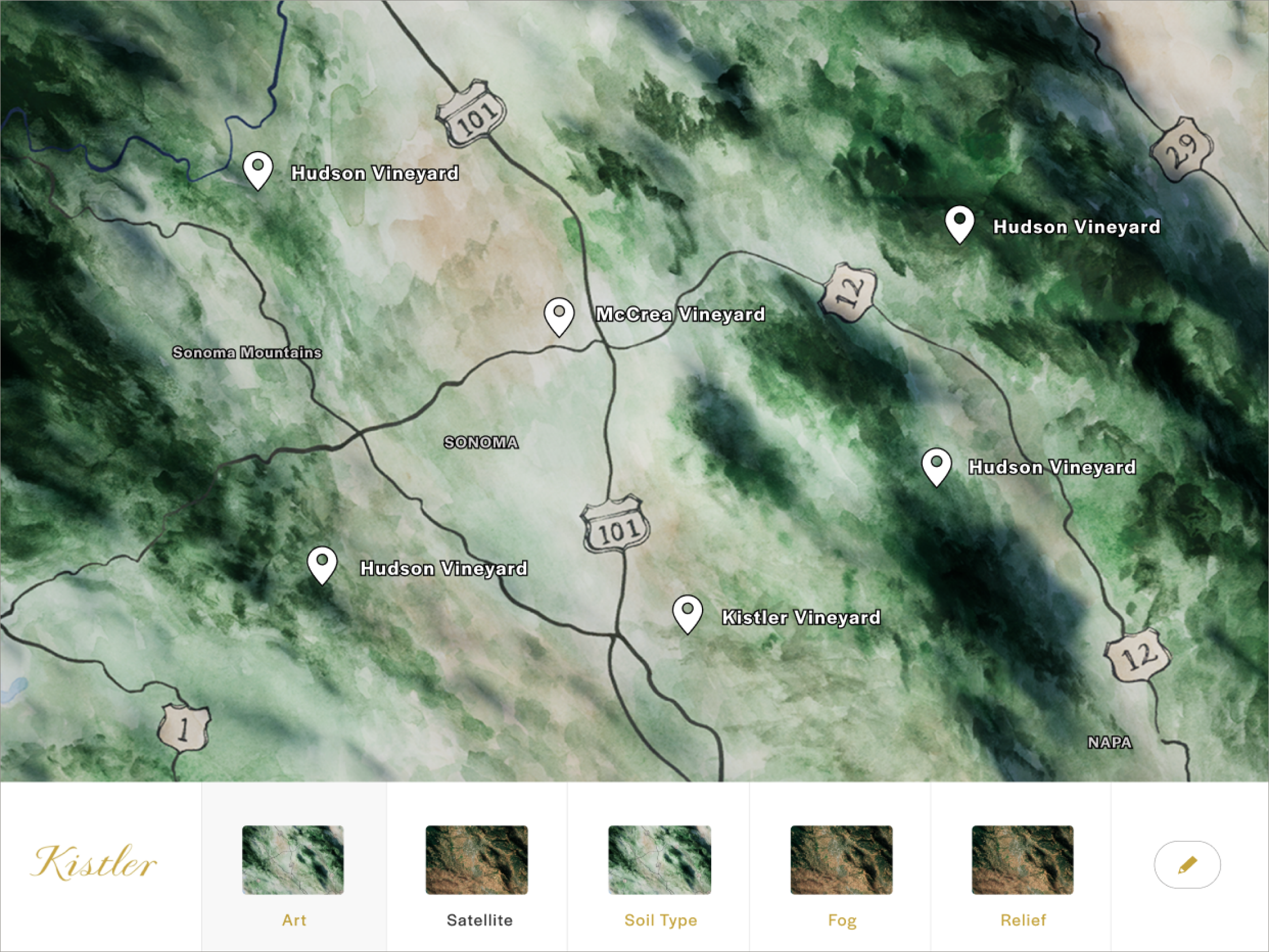 "The team at Offset guided us towards exactly what we had envisioned and more for our site.
And like all great guides they led us in directions we didn't know we needed to go. The process that they took us through broke down what Kistler Vineyards is all about and built it back up to a presence on the web that exceeded our expectations. We greatly added to our internal sense of brand along the way. They went well beyond design and unearthed the reasoning for why we were trying to tell the story we were, and more importantly how to best go about telling it with design, imagery and words. All of that shows in the finished product and that's all due to Offset. We'd follow them again down that path any time without hesitation."
Jason Kesner
Winemaker & President, Kistler Vineyards