Joseph Phelps Vineyards
Clarifying a legacy producer's brand architecture through a website project
At Joseph Phelps, questions and misconceptions often arise over the relationship of Joseph Phelps the company and their flagship wine, Insignia. While Insignia has always been a core part of Joseph Phelps's portfolio, its packaging (and impressive position in the marketplace) sometimes gives the impression of a stand-alone brand. The story of their Sonoma Coast wines is the inverse – initially launched as a separate brand, it's now housed under the Joseph Phelps portfolio. The structure of the website clarifies these relationships by prioritizing stories that detail each facet of the brand – including Joe Phelps, its eponymous founder.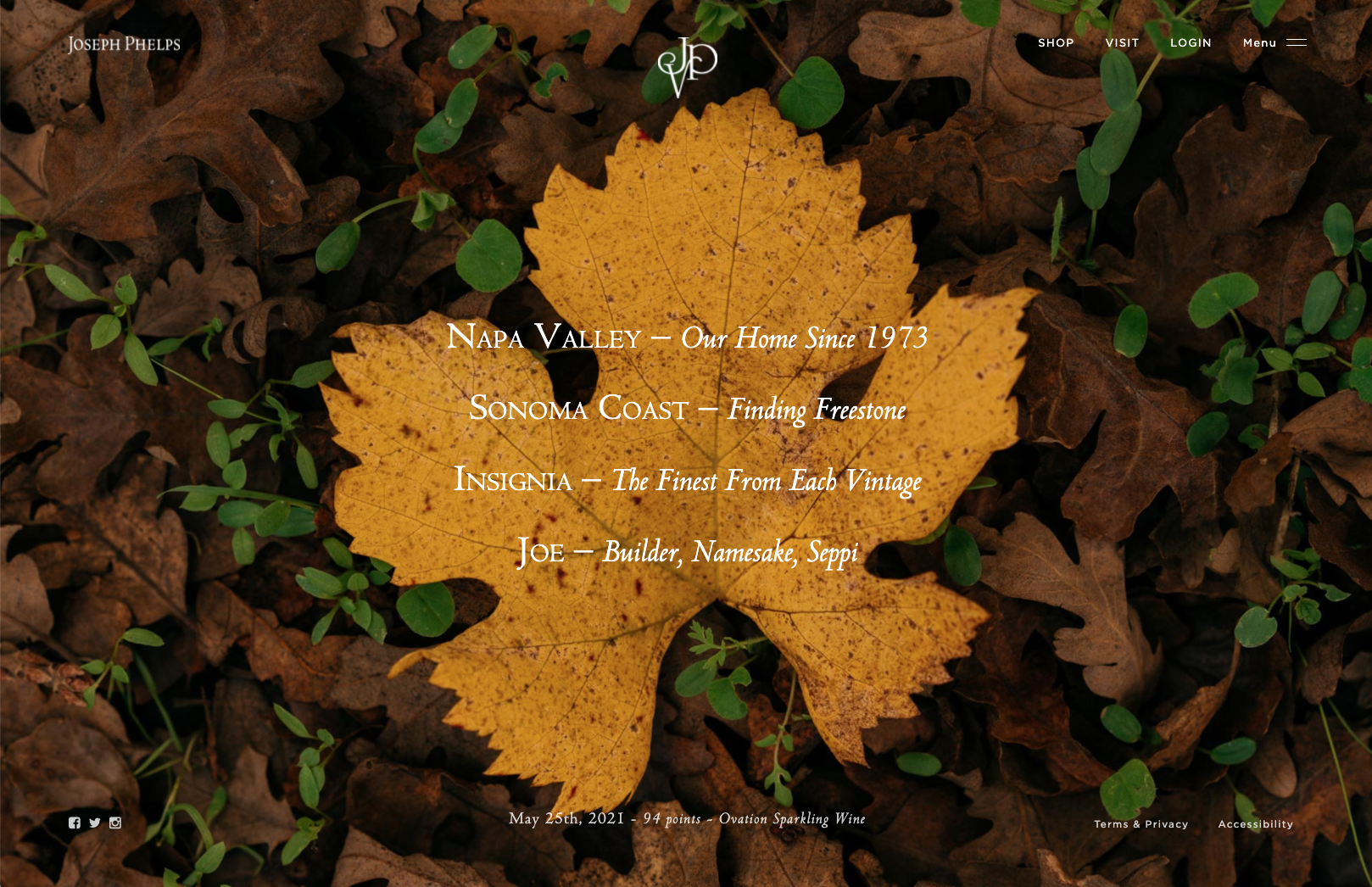 Positioning vineyards and estates at the same level
To reinforce that their Napa Valley and Sonoma Coast vineyards and estates are at the same level, and part of the larger Joseph Phelps portfolio, their respective story pages are presented with congruent structure and visual styling. Extensive photography by Matt Morris of their estate vineyards is presented as a discoverable element at the bottom of each page.
Page styling that takes on the brand attributes of the subject
Since the label for Insignia stands apart from the rest of Joseph Phelps's portfolio, the page follows suit with dark purple tones reminiscent of the package and wine itself. Joe Phelps's page takes on the typeface and visual attributes of the original Joseph Phelps label – a nod that longtime customers will immediately recognize. And because websites are inconsequential without great content, we collaborated with writer Mora Cronin on storytelling and voice for these four key pages and beyond.

"Working with Offset was a real pleasure.
Their vision to help us tell a long history of vineyard farming and winemaking in both Napa Valley and the Sonoma Coast came to fruition following a deep dive into our history, our people, vineyards, and wines. Offset helped us tell our nearly 50-year history in a unique and visually stunning way. We continually receive compliments on the website's look and feel, as well as its navigation ease."
Mitzi Inglis
Senior Marketing & Communications Manager, Joseph Phelps Vineyards