Chev
Looking outside of wine for brand inspiration
We find it valuable to look to extremes in perception around wine "branding." On one side, you have producers who are single-mindedly focused on producing great wine and distrust anything that smells of branding and marketing. On the other, you have wines created purely to appeal to a target market with elaborate – and often impressive – brand concepts, but little regard for what's actually in the bottle.
CHEV winemaker and proprietor Michael Browne, makes serious wine and is a serious brand-builder. Like us, he doesn't accept the false dichotomy outlined above and has imbued all of his wine projects with memorable brand concepts that look outside of wine. With a story centered around classic American craftsmanship tied to his father's influence, CHEV embraces the power of rooting a memorable brand concept with the deeply personal.
From brand strategy to path to purchase, we ensured the craft involved in building CHEV's brand lived up to the craft behind what's in the bottle.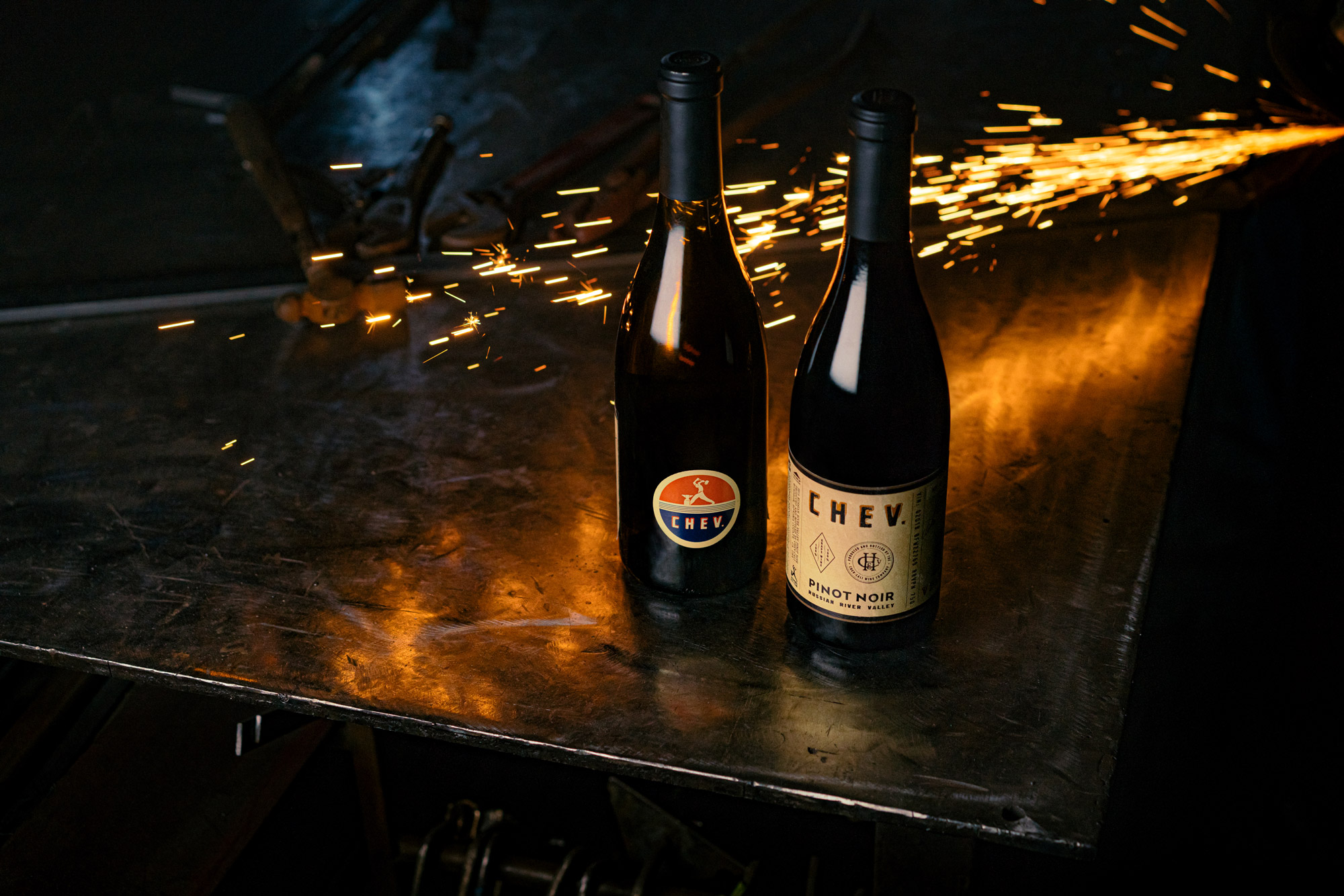 A content strategy and website that unites craft and land in unexpected ways
As an allocated wine brand, CHEV communicates with its customers primarily twice a year during wine releases. Each release is accompanied by a Maker + Region story. The first of which features Michael's father and doubles as the brand's origin story. The stories play double duty as a tool to engage current customers and gather new mailing list sign-ups.
Building a branded photography archive that unites a wild blend of styles and subjects
From Irving Penn inspired portraits, sweeping aerial landscapes, live-spark laden bottle photos, to boots on the ground documentation of the hard work done by CHEV's team and the makers who inspire them, the photo (and ambient video) archive we're still building with photographer Eric Wolfinger, for CHEV is eclectic and unexpected. What ties it all together is a commitment to elevating hard work and reverence for the magical places from which their wine is produced.
A considered path to purchase for allocated wine offerings
Through using our ecommece platform, we were able to carry CHEV's brand seamlessly through the path to purchase and customer account pages.
"Offset has been instrumental partners to Michael Browne and his team, from the inception of CIRQ and now with CHEV.
Their strategic leadership and thought process from strategy, creative design, concept development, all the way through to execution with their ecommerce platform, has brought tremendous value and a seamless experience to our members from beginning to end."
Sylvie Schwarze
VP of Sales and Marketing, CIRQ & CHEV